Restaurant Payroll Made Easy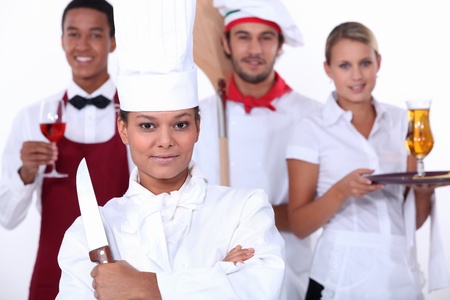 Restaurant Payroll

If your business serves food and/or beverages and your employees are compensated with credit card tips, cash tips, and/or multiple pay rates.
Entrust Payroll Solutions
is the perfect fit.
Focus on what you do best! Providing the best food and beverages to keep your satisfied patrons coming back over and over. Leave the restaurant back office of payroll and employee management to the experts at Entrust Payroll Solutions. From wages and tip calculations to shortfalls and understanding your FICA tip credit, Entrust Payroll Solutions makes it easy. We will handle your payroll and tax requirements and reduce your time on administration tasks saving you from costly mistakes and possible penalties.
Restaurant Payroll is Easy with Entrust Payroll Solutions
Restaurant payroll service provided by Entrust Payroll Solutions you get:
Easy-to-setup payroll for multiple pay rates and earning types.
Enter, preview and approval payroll online, anywhere and anytime.
Minimum Wage Alerts: We will provide you with helpful tips-to-minimum verification to help you stay compliant.
FICA Tip Credit Report -calculates and tracks just how much you are entitled to claim on your annual business taxes for this credit, assisting you in taking advantage of substantial tax savings by providing a signature-ready form 8846 to ensure you receive your FICA tip credit.
Tip Sign-Off Report-provides written proof of employees' tips received and declared, which can help you with government compliant regulations.
Save time – We will handle the calculations. Run your restaurant's payroll in just minutes and we will automatically file and pay your restaurant payroll taxes.
Get peace of mind with easy reporting – Our shortfall tracking helps you stay on top of whether your employees owe outstanding taxes to you, the employer, and/or the tax agencies.
Entrust Payroll is here to help with your restaurant needs!
Run payroll where you want, when you want
Enter hours and pay rate from anywhere, anytime online.
Preview how much money will be debited from your account on payday.
After you preview it simply approve it. That's it! Use direct deposit or print checks
yourself or have us process the checks for you – easy as that!
24/7 online access so you can run payroll and view reports anytime from anywhere
Entrust Payroll Solutions works on your behalf.
We make it easy for you, wherever and whenever it's convenient for you.