In a flexible work arrangement, employees typically get to choose their work location and their work arrival and departure times. They may also have the ability to schedule their workday however they see fit. But as noted by the Department of Labor, "Under some [flexible work] policies, employees must work a prescribed number of hours a pay period and be present during a daily 'core time.'"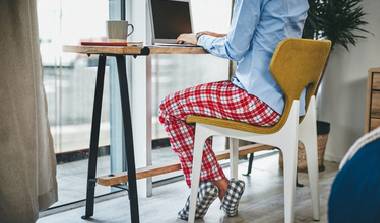 Flexible work is a critical component of retention
In a 2020 survey by FlexJobs, 79% of respondents said that "they would be more loyal to their employer if [the employer] offered flexible work."
Flexible work options include:
Fully remote.
Hybrid (a mix of on-site and remote).
Part-time work.
Work-from-anywhere arrangements.
Alternative schedules (e.g., second or third shifts).
Job sharing.
A compressed workweek.
Temporary jobs.
Seasonal work.
Flexible work is highly beneficial to employees
Per the University of California, Berkeley, flexible work allows employees to:
Decrease travel time, costs and related stress.
Achieve work-life balance more easily because they are better able to schedule important appointments such as doctor visits during the workweek.
Engage more in healthy living, such as exercise and proper eating.
Work when they are most productive.
Work at a place and a time that enable fewer distractions.
Provide — and save themselves the cost of — dependent care.
Flexible work also makes it easier for employees to pursue their life goals, such as going back to school for a higher-education degree. It's also unlikely to be an underutilized perk. A 2020 survey by Deloitte revealed that among the employees "whose companies offer flexible work options, 82 percent say they have used them." The survey found flexible work hours and remote work to be the most valued options.
Mental health and remote work are driving demand for flexible work
In the Deloitte survey, 94% of respondents say work flexibility would be beneficial to them, with the primary advantages being reduced stress, improved mental health and greater work-life balance. Moreover, 1 in 3 respondents say flexible work "would increase their job satisfaction and morale, and almost 30% say it would increase their overall productivity or efficiency at work."
On the remote-work front, a report by Global Workplace Analytics states that "79% of people want to work from home" and "36% would choose it over a pay raise."
Flexible work is good for retention
Flexible work arrangements aren't suitable for every job. Some positions are tailor-made for on-site environments or the traditional 9-to-5, 40-hour workweek. Also, employers that offer flexible work should make sure the options do not impede career advancement.
That said, employers can save on turnover costs by satisfying employees' desire for flexible work. This is noteworthy, because the cost to replace an employee reportedly ranges from one-half to two times the employee's annual salary — and that's a conservative assessment.