The human resource function is responsible for providing services as well as support to employees during their time working for a company, from hiring, onboarding, training and development to payroll, benefits and termination. This "services and support" arm is known as "HR service delivery."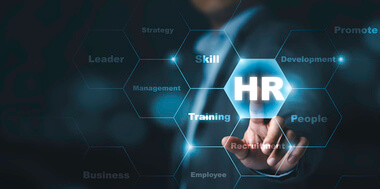 HR service delivery: Then and now
Historically, HR has always been implemented through the lens of a customized, hands-on approach. The goal of HR is to provide services and support to both management and employees alike. However, this approach isn't exactly feasible in modern times given today's fast-paced business climate. The business world, as we currently know it, is one in which employees can obtain immediate access to information, and technology is at the core of most businesses.
To ensure that your HR department is providing optimal services and support to all your employees, your company's HR delivery model must focus on excellence through and through. The goal should always be to implement supportive practices and maintain them sustainably over time. That way, your company will support your employees in the best ways. However, keep in mind that excellence is difficult to achieve when you're working with outdated systems. 
That's why many organizations utilize a proven model when developing an HR delivery system. Over time, a number of HR models have been introduced and tested in terms of how well they help employers enhance their HR service delivery practices. Of the many models that have been put into place, the most popular model seems to be David Ulrich's three-legged stool model, which is best when used by large organizations.
The three-legged stool model
The three-legged stool model involves a trio of HR departments or professionals who work together to manage the employees of a company. This approach suggests that a large organization group its company's employee management team in the following three ways:
Leg No. 1: Often referred to as shared services, this branch of the three-legged stool model is focused on supporting employees as their first point of contact within HR. Human resource professionals in this leg of the model are equipped with the tools to provide employees with administrative assistance and basic support on a daily basis. In many cases, the support offered by this leg can be contacted via self-service platforms that employees are granted access to at all times. Typically accessible by way of the internet with a computer or mobile device, the self-service portal makes it simple for employees to update their payroll information, change data pertaining to benefits, request paid time off, view their work schedules and get answers to various questions that come up. 
Leg No. 2: The second leg of the model comprises the HR specialists who make up the centers of excellence and are equipped with a wide array of tasks. Some of their duties involve staffing, training, compensating employees, offering benefits to new hires, managing performance levels and taking charge of all things employee relations.
Leg No. 3: The third leg of the model refers to the company's business partners, who are HR leaders who fill very strategic roles alongside organizational leaders. Their purpose is to develop policies and programs that directly support and align with the business's objectives. These objectives may include various high-level activities, such as succession planning or compensation design, as well as outlining the hiring process and what to look for when thinking about bringing on someone as a new hire.
When companies properly implement all three categories of Ulrich's model, these organizations can achieve sustainable excellence in HR service delivery.
Tips for all business sizes
Here are a handful of practical ways that your organization can achieve excellence with suitable HR service delivery, regardless of your company's size:
Provide employees with a self-service platform as well as a human point of contact, someone they can reach out to in the event they come across issues that cannot be resolved simply through the portal alone.
Ensure that there is a balance between HR professionals and employees. With a reasonable ratio in place, you'll be able to ensure that there are plenty of HR professionals to adequately support your workforce. 
Make sure you hire qualified and experienced HR professionals. If the people you hire to fill roles in the HR department do not know the basic skills required of a human resource professional, then they won't be able to deliver excellence to employees.
Equip your HR team with all the tools and resources they'll need to carry out their duties. Doing so will heighten their ability to attain successful outcomes, no matter the situation.
If you're a small company with a short list of employees, you might want to consider outsourcing your HR department instead of onboarding HR professionals. By outsourcing, you can assign tasks pertaining to payroll and benefits to a reputable professional employer organization. As a result, you will have more time to focus on strategic tasks, such as improving employee performance and prioritizing the bottom line.
All in all, your HR department will be the difference between excellence and a lack thereof, so be sure to prioritize the sustainability and efficiency of your HR professionals. Whether you choose to hire experienced HR team members or outsource HR-related tasks entirely, the ultimate goal is enhancing your current HR service delivery method or putting one in place.